Jun 01, 2021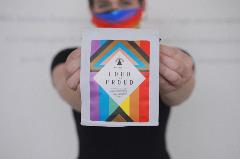 GSBA Member Broadcast Coffee, a proudly Gay-owned cafe and coffee roster, has some special Pride-themed offerings coming soon. The company recently added special T-shirt and sweatshirt options to their retail selection. Printed on a rosy-pink 100% organic cotton garment, the shirts and sweatshirts feature a bold rainbow above their recognizable triangle logo. But the real treat is on its way. (Photos by Jesse Penico)
Slated to debut in June, Broadcast has a limited supply of Loud and Proud coffee, an Anaerobic Zambian Natural coffee that packs a powerful fruity punch. Broadcast owner Barry Faught doesn't mince words. "It's a gigantic strawberry bomb in your mouth," he said.
The Loud and Proud coffee is sourced from Zambia, an underrepresented country in specialty coffee. The anaerobic process means the coffee is processed in  a similar manner to wine—"Much like wine, they put the coffee into a vat and suck out all the oxygen which gives it dimensions and flavors that not a lot of coffees have right now," Faught explained. "It's a natural process, so it uses a lot less water. It's more sustainable."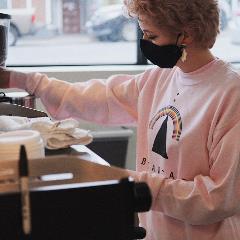 For every bag of Loud and Proud sold, Broadcast will make a $3 donation split between two LGBTQ+ organizations: the Lambert House, a non-profit that offers support and programming for LGBTQ+ youth in Seattle, and The Community Center in Boise, where a new Broadcast cafe will open later in June. Also coming in June is a limited run of Broadcast Pride stickers. Sold for $2 each, all profits from the stickers will be split between the two organizations. Throughout the Broadcast's 13-year history, they've donated to many other LGBTQ+ organizations, including Camp Ten Trees, Seattle Counseling Service, Seattle Frontrunners, GSBA, and more.
"I think what the Lambert House does is awesome," Faught said. "The Lambert house has been an underdog as far as where folks donate money to. Sometimes [I think it] is overlooked. I really think it's important to bring some focus to them."
Loud and Proud is ideal for a pour-over, or brewed with a home coffee maker. It's perfect on its own, or with milk or plant-based alternatives like oat milk. Expect to see it featured as batch brew at any of Broadcast's Seattle locations, where you can also purchase it by the bag—on Roosevelt Way in the University District, at Yesler Way in the Central District, and at Temple Pastries on S. Jackson St.—as well as through their online store.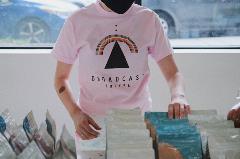 This isn't the first time Broadcast released a designated coffee to raise funds. At the onset of the pandemic last year, $5 from every sale of Broadcast's Gimmie Shelter blend went to an employee fund. Staff could request funds for financial emergencies, or to help offset reduced hours during that challenging time. "That was really successful, we were able to take care of our staff in a time of need," Faught reflected.
As a Gay-owned company with a significant number of LGBTQ+ staff and management, Broadcast is known for being an inclusive work environment for queer, transgender and nonbinary individuals. Faught and management make it a point to ask for pronouns, and use gender-neutral language when addressing customers. This inclusive environment is baked-in to the culture at Broadcast, and Faught said it's simply because they hire LGBTQ+ people who bring those values with them.
At the end of June, Broadcast will bring that same inclusivity to a new cafe in Faught's hometown of Boise, opening right across from a new city park.
"We are a mission-driven company, and our mission is to better the lives of people in the world," Faught emphasized. "It's something that we'll never stop working for."
Follow Broadcast Coffee on Instagram at @broadcastcoffee, and be on the lookout for the Loud and Proud debut at the beginning of June.
---