Aug 02, 2021
At ORM Fertility, we believe that Love is Family and everyone deserves to realize their dream of parenthood. We pride ourselves on being a truly welcoming clinic and helping all families grow. According to a family building survey conducted by Family Equality (2019), 48 percent of LGBTQ+ millenials are actively planning to grow their families to 55 percent of non-LGBTQ+ milennials — a gap that has significantly narrowed.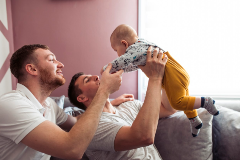 ORM Fertility has been passionately growing families for more than 30 years and we're proud to be a leading clinic for LGBTQ+ parents from around the world. We are committed to serving the LBGTQ+ community with sensitivity, compassion, and advocating for inclusivity, not only in our practice but in our extended medical community as well. Our team strives to provide respectful and personalized care to every patient who walks through our doors.
As fertility advances and the options for family building expand, so does our understanding of identities as humans. Our team of knowledgeable reproductive physicians, clinical leaders, and expert staff knows that every path to parenthood is unique, and our personalized approach to care is specially tailored to you.
As part of our commitment to honoring our patients' unique journey, we strive to create a safe environment where members of the LGBTQ+ can access the professional medical care they deserve. To further our commitment to our LGBTQ+ patients, we partnered with Family Equality, a national nonprofit leading advocacy for LGBTQ+ families, to earn our Open Door Training Designation as an organization.
"The entire experience was so positive, comfortable and welcoming. I just can't imagine not having our daughter, we are just so fortunate and grateful to ORM. We felt a lot of trust and loved every bit of the experience." – ORM Fertility Family, Reciprocal IVF
Your Unique Journey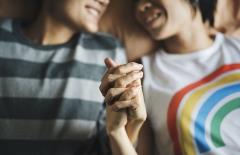 There are many options to growing your family and the journey through fertility treatment is unique for everyone. From donor egg and surrogacy to donor sperm and in vitro fertilization (IVF), it can be overwhelming to know where to start. Our experienced team, along with our expert surrogacy and donation agency partners, have years of experience working with thousands of growing families every year. ORM Fertility also has a large, innovative, in-house genetics team and a robust in-house egg donor program. Having these services coordinated and working together at one clinic can make things easier and help streamline the family building process. With our partners, navigating the legal aspects of care are made possible and seamless. Simply put, it's complicated and we're here to help every step of the way.
We are proud to be a leading fertility clinic in third party reproduction (TPR), having completed more than 10% of all TPR cycles in the US in 2019. Third party reproduction is a term that describes the group of amazing individuals like egg donors, sperm donors and surrogates who make growing a family possible for so many.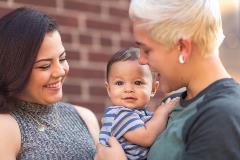 Nestled in the Heart of the Rainbow Family Explosion
Located in both Seattle, WA and Portland, OR, not only is ORM Fertility committed to inclusivity but so are the communities we reside in. The gorgeous Pacific Northwest continues to provide a clean, welcoming, and fertile place for growing LGBTQ+ families. With supportive legal surrogacy laws to a progressive and open-minded medical environment, it's no surprise that Washington and Oregon are some of the tops states in the US for LGBTQ+ families. There is more access and support than ever and we're passionate about helping continue to cultivate an equitable environment for all who wish to start or grow their family.
As Washington and Oregon are rated among some of the top states in the US for LGBTQ+ families, there is more access than ever to resources you need to grow your family. With new access to compensated surrogacy and important legal protections for LGBTQ+ parents, the Pacific Northwest is one of the best places for growing LBGTQ+ families.
Let's Grow Your Family, Together 
There's a lot to consider as you begin planning your unique path to parenthood and we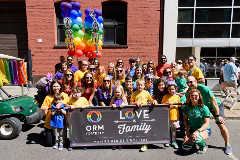 are honored to be a trusted resource for the LGBTQ+ community. In an effort to provide education about fertility care options, ORM Fertility hosts free webinars led by our physicians and agency partners to walk you through your treatment options. You can also connect with one of our physicians by scheduling a consultation today.
Learn more and register for our upcoming FREE LGBTQ+ Family Building Webinars:
●  Donor Egg & Surrogacy
●  Egg Seeking Sperm
You can also visit us at loveisfamily.com, which is our dedicated online resource for LGBTQ+ family building.
There are many options to growing your family and the journey through fertility treatment