May 14, 2021
As the COVID-19 pandemic arrived in the early spring of 2020, "the haircut" became a political rallying point at re-opening protests across the country as most salon and barbering businesses were unable to safely operate under new health regulations. But for GSBA Member and Ready for Business Fund – Round 2 grant recipient Dawa Goes-Behind, owner of Shear We Go, the donning of gloves, aprons, masks, and meticulous sanitizing was an easy adjustment.
"I think COVID-19 is going to change barbering, tattooing, and the nail industry. It's gonna change the way we care for each other, and I'm excited about that, because I've always been approaching it like this," said Dawa. "I've always worn gloves and my suspenders. I want my service to be comfortable for people, where you're safe and in your own world, and I'm almost in the background."
Established in 2016, Shear We Go is an on-demand mobile barbering service based in Bellevue and operating across the greater Seattle area. Since Shear We Go is a mobile business, it's one that's particularly accessible, as many elderly, disAbled, and immuno-compromised customers have found in-home barbering safer during the pandemic.
"Even as barber shops began reopening across our region, my dad was weighing the decision to go out for this service. Was it worth the increased risk? With my Dad's age and health in mind, I was concerned as well. Lucky for us, we found Shear We Go," reads one Yelp review. "Shear We Go is all that is advertised and more. We were able to easily book an appointment (haircut and beard trim) online. Dawa traveled to my dad's home, set-up everything up, took proper precautions, and gave my dad awesome service."
Not only does Shear We Go meet the customer at their home, but the business services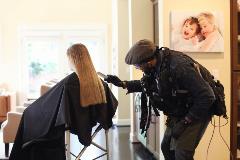 all genders, hair textures, and folks of all backgrounds and ages – from three years old to 93. Shear We Go can also provide group cuts and trims for the whole family. Shear We Go's mission of accessibility comes from Dawa's love of connecting with folks from all walks of life, a practice he honed during his eight-year military career which was then followed by five years as a social worker, serving as a high school counselor and case worker for unhoused veterans.
"I love being around people and learning from them," he said. "Coming into barbering, I was like 'Wow, you can really get to know people on a personal level.' In business, there's also a level of social engagement and organizing that I learned as a social worker… And to be a Queer, Indigenous, Black man, there's a lot there that I can bring to the table for my business, and culturally, in connecting with people. It allows me to have what I like to call a 'social satellite,' to be able to tune-in to people's frequencies and see where they're coming from."
Though Dawa provides cuts for everyone, one group that commonly uses his services tends to be elderly white cisgender men. While Dawa says he and these clients might not always have much in common culturally or politically, he says they share an appreciation for the craftsmanship and attention to detail of the traditional barbering services Shear We Go provides – and that his tactical attire is always a great ice-breaker for these clients, often also military veterans themselves.
"When folks see the tactical gear, the shiny clippers, and gold sheers, and how I clean up – there's a respect that comes with that," he said. "It's this DIY experience that people respect, but it has to be visceral, so everyone sees what's happening in the background. When these guys see the attention to detail, it really relaxes them."
As a vigorous goal-setter, with Dawa's lofty 100-year business plan, he's looking to scale Shear We Go into a franchise with several barbers across the region – eventually operating with an app similar to Uber or DoorDash where users can hail a barber to their home or office, similar to how one would hail a ride or order delivery. He's also continuing to bake his own values into the foundation of his business having recently connected with Cocoon House, a Snohomish County-based nonprofit that provides shelter for unhoused youth and works to end the cycle of homelessness. Dawa is interested in creating an apprentice program for unhoused or at-risk youth to learn barbering, various employment skills, and grow financial and social stability – a program which would allow him to use his experience in social work.
For now, Dawa is most focused on getting the word out about Shear We Go, especially to those who still would benefit from a safer grooming experience, such as people living in senior and assisted living communities. As one of the 66 BIPOC-, LGBTQ-, and/or women-owned small businesses to receive a grant from the second round of the Ready for Business Fund, Dawa plans on using his grant to help market his business.
You can learn more about Shear We Go and book a cut here. You can also follow Shear We Go on Facebook and Instagram.