Mar 29, 2020
Seattle's tourism industry is facing unprecedented challenges in the wake of COVID-19. With Governor Inslee's announcement of "Stay Home, Stay Healthy" order, all Washingtonians are required to stay home unless pursuing an essential activity. While we are all practicing physical distancing, GSBA has curated a way you can support the tourism industry during this difficult time, fending off the stir-craze by touring Seattle from home with GSBA Members.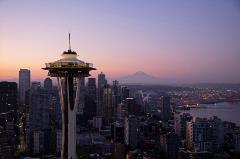 Space Needle Virtual Tour: Experience thrilling heights from home, while taking-in 360° live-webcam views from Seattle's most iconic structure – including the famous rotating glass floor below your feet.
5th Ave Theatre: The stage might be dark and the ghost light is on, but you can still get your Seattle musical theatre fix. One of America's leading musical theater companies, The 5th, is very active online! Hosting their own March Madness Musical Theatre Edition or hosing a special cloud editions of their Fridays @ The 5th featuring beloved artists.
Pacific Science Center: Bring the classroom home with Pacific Science Center's collection of at-home science experiments, live science shows, featured videos, and more.
Woodland Park Zoo: Watch live web cams of tigers, bears, and bats, oh my!
Seattle Symphony: During these challenging times, the Seattle Symphony will continue sharing performances to provide strength, comfort, and joy through video rebroadcasts and livestreams throughout the month. These broadcasts have been seen by over 130,000 viewers around the globe.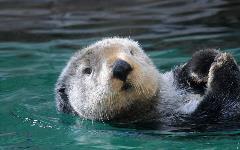 Seattle Aquarium: Rivers and otters are bound to cheer anyone up. Check out the Seattle Aquarium's live cams of the incredible animals home to the beautiful waters of the Pacific Northwest. You can also keep your kids busy and help them learn about conservation with interactive online activities from March 30 to April 3 during Sea Otter Week.
Seattle Art Museum: Dive deep into the SAM's vast, globally-celebrated collection – such as John Grade's large-scale installation Middle Fork and visiting exhibits from legendary artists like Georgie O'Keefe through interactive virtual tours, video presentations, and more.
In addition, our friends at Visit Seattle have put together a list of virtual tourism activities and livestreams, including additional ways to enjoy Seattle from the comfort of your own home.
When virtually visiting each of these iconic Seattle tourist destinations, be sure to give a  look for a donation link to give back. More than ever before, now is the time to support Seattle's hospitality and tourism industry.