Apr 12, 2021
A former catering business takes a bite out of the word "pivot" 
City Catering was a thriving catering business that had been in business for 20 years providing creative and unique menus for nonprofit and corporate events, weddings, and the four cafés it operated, including the café at the newly remodeled Nordic Museum in Ballard. But like so many small businesses, the pandemic forced City Catering to halt all of its operations. On March 13, 2020, City Catering donated the large volume of food they had in inventory and temporarily closed their doors. Just a few weeks later, Lendy Hensley, owner of City Catering, knew this was not going to be a temporary shutdown. She laid off all but one chef and helped the rest of her employees get on unemployment.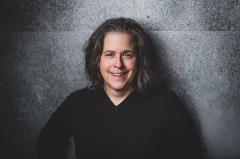 Faced with mounting uncertainty, Lendy, her wife, Katy Carroll, and Director of Catering Shana Hicks asked themselves what do we like about City Catering? What would we miss if City Catering was gone? The answer? They would miss bringing people together to share an experience with great food. Knowing this and that the three enjoyed working together, they then looked to harness their over 30 years in the food industry and their desire to work together to reinvent their business. They spent hours in the kitchen revisiting cherished and well-used recipes and reviewed the many commodified foods they had been producing for years at City Catering, from house-made potato chips to cookies.
They then researched other Pacific Northwest culinary creatives who shared their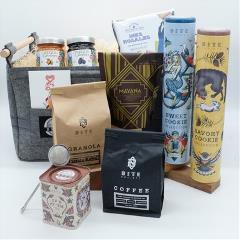 mission of bringing people together with food and explored various types of marketplaces they could employ. Bite Society was born, the cool gift basket company.
Armed with a great concept, the team set out to brand it. They wanted to do it in a way that was thematically interesting and would survive beyond the pandemic. After all, this was not a temporary pivot.
"I started thinking about what it means to be American," said Hensley. "I am an American, too. How do we reclaim a symbol like the American flag and all it stands for from the MAGA contingent? Katy had a great idea. What if we look at American flash tattoo artwork as a jumping-off point?"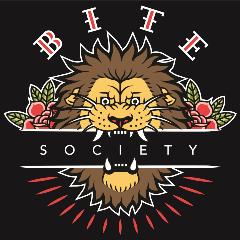 Work with a branding company began, but it was not going in the right direction. They knew they wanted to stick with the flash tattoo concept, so why not go straight to the source? Lendy thought, there are unemployed tattoo artists all over the country – a veritable treasure trove of talent that could potentially help bring their ideas to fruition. Tattoo artists are used to working collaboratively with their clients, so it was a perfect match.
The research continued to try products they could source for their gift baskets, but the pandemic made this a much more complicated endeavor than they had expected. Lendy and the team realized they needed to produce more of their own products, so they got certified to produce food for consumer retail, and soon they had 38 products plus some very cool merchandise to start stuffing those gift baskets. And not just any run-of-the-mill basket or box. Most of Bite Society's gift baskets are made of sturdy grey felt with wooden handles that can be reused countless ways. And many of their products come in reusable or recyclable packaging.
Bite Society officially launched late at night on December 16, 2020. By the following day,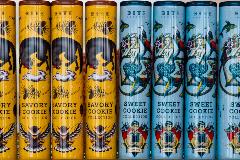 they already had orders to fulfill. Support from former catering clients yielded larger orders, and pretty soon, the Bite Society team refined their process, including honing their gift basket and box packing skills to just four minutes each.
"We are modernizing the gift basket," said Hensley. "We want everyone to feel proud to send someone a Bite Society gift basket. Ultimately, we want our gifts to spark a conversation and have people saying, let's see if this stuff tastes as good as it looks."
Bite Society unites good company with good food, no matter the distance. In addition to their curated gift baskets, GSBA recommends shopping their online Food Hall and trying their salsa macha, Bite Society's spin on a traditional Asian chile crisp. You can truly put it on anything. Add their pickled fennel to your next cheese plate and Sister Carol's Mustard is not to be missed.
And if you plan to watch the Academy Awards with your quarantine pod order one of these cleverly-named Oscars gift baskets. Or send one to your favorite movie-loving friend.
For more information check out their website and follow them on Facebook and Instagram @hellobitesociety.

---